Navy Recruit Training Goes Mobile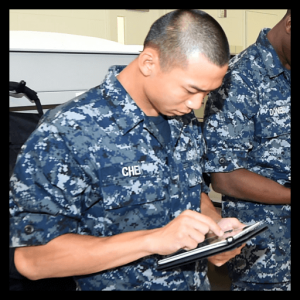 TECHSOFT's role on the Basic Military Training effort was twofold. We updated interactive multimedia instruction (IMI) per specifications in the provided Instructional Media Design Package (IMDP) using HTML5. We also delivered the IMI in formats compatible to run on tablets using Android, Windows, and iOS plus desktop PCs running Windows configured in accordance with Navy/Marine Corps Intranet (NMCI) specs,
Using Experience Application Programming Interface (xAPI) statements, we captured learning metrics such as time spent on lesson and responses to knowledge check questions. Metrics were stored locally until Internet connectivity became available, when we relayed metrics to the Navy e-Learning (NeL) Learning Record Store (LRS).
TECHSOFT made extensive use of existing training assets to streamline the development process and optimize Reuse, Repurpose, or Reference (R3). We created new media such as illustrations, still photographs, and short videos to enhance the learning experience and maximize interactivity.
To inspire and engage trainees, we used a trophy case metaphor in a simple gamification of the training. A trainee received a trophy upon completion of each section and provided realistic visuals so the student could see progress as trophies were added to the case.
Read more about the US Navy's eSailor initiative here.